This week was all about the text.
On Monday, we were joined by Diane Jakacki as we dived into distant reading using Voyant.  Voyant is a pretty easy tool to get the hang of so in no time our students were out of the gates analyzing the corpus we provided them as well as their own documents. I think what is great about Voyant is that the interface is so user friendly but the sheer number of tools available on the platform can keep you busy for hours. Between the seven people in the room I think we only explored a fraction of Voyant's capabilities.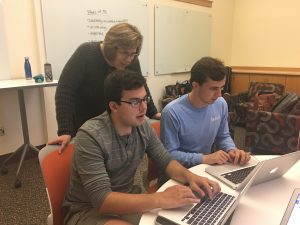 What I really appreciated from Diane's introduction to text analysis on Monday was the emphasis on distant and close reading working in tandem with one another. You can infer a lot from the visualizations in Voyant but if you don't have knowledge of the text you are working with you will be left with a very superficial understanding.  This set us up perfectly for a deep dive into close reading through TEI on Tuesday and Wednesday.
We started close reading at the very beginning with transcribing diary entries of James Merrill Linn from May 1862.  James Merrill Linn was in the first graduating class at Bucknell and a local of Lewisburg. He went on to enlist in the Union army at the beginning of the Civil War and kept extensive diaries throughout.  Linn's papers are part of the collection in Special Collections and University Archives and so far two classes have worked on transcribing and marking up his letters and diaries so our fellows work this week will contribute to that ongoing project.  As we transcribed and began to put the diary entries in order, everyone became pretty invested in Linn's exploits.  This was good news because the next step in the process was marking up the documents.
I think when our fellows downloaded Oxygen onto their computers there was some apprehension as to what would come next. However, everyone caught onto TEI very quickly.  Debates arose on the appropriate tags to use and I still don't think we reached consensus on whether death is an event, state or trait.  Once again it was great to watch the collaboration as the fellows worked through how to mark up and tag each of their documents together.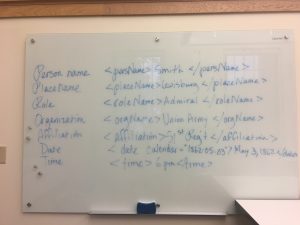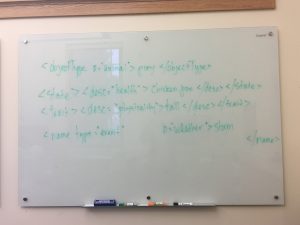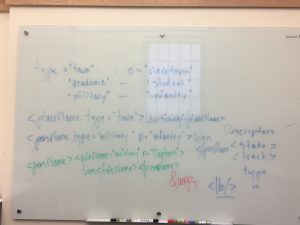 Since we still had unanswered questions about Linn,  I arranged a visit to Special Collections and University Archives with Assistant Archivist, Crystal Matjasic on Wednesday.  It gave us an opportunity to take a look at the originals of our letters and shed light on some transcription questions the image files left us with.  While we were there Tyler figured out that Bucknell is in possession of not one, but two clocks that are made of coal so I foresee another trip to the Archives in Tyler's future.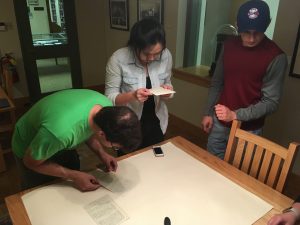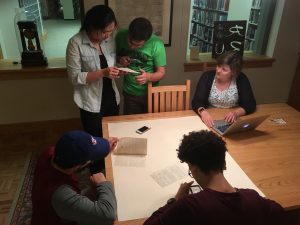 The week ended with each student presenting their Project Charters to the group and individual meetings with the students.  Carrie and I are so impressed by the progress each student has made in the last two weeks!  It is amazing to watch the continual refinement of research questions, scope, and which tools will add the most to each project. As librarians we don't always get to see the entire process unfold, we only see snippets, so this has been incredibly rewarding two weeks.  Also completely terrifying, as we realize we are a quarter of the way done! I will be gone the next two weeks at DHSI and visiting family so I can't even imagine the progress that will be made by the time I come back.  Carrie will be keeping all of us posted 🙂